NO3-
Applications
Drinking water
Process optimisation of wastewater treatment plants
Industrial and municipal wastewater
Mineral water monitoring
Surface water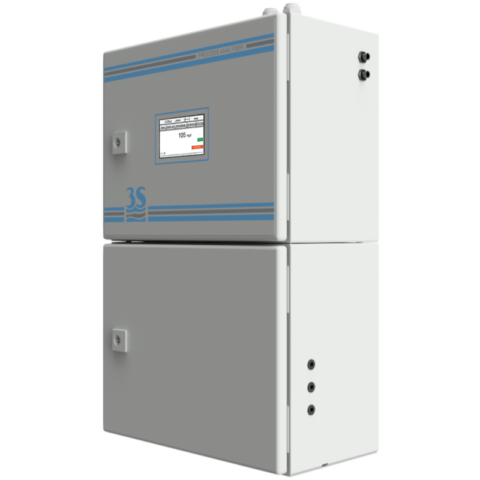 Description
Spectrophotometric analyzer for the determination of nitrate ions.
The measurement is based on the UV absorption of the nitrate ion at 220 nm. The instrument allows ranges of 30 and 60 mg/L as NO3 (x2 to x40 with dilution). The result can be expressed as NO3 or N-NO3.
Nitrates are dangerous pollutants for aquatic life and poses risks to human health when present in drinking water. The nitrates concentration in surface waters derive mainly from biological pollution due to urban agglomerations, agriculture nitrogenous fertilizers, discharges from chemical industries and combustion processes. The instrument is ideal for potable water or suface water analysis and with the addition of a dilution module is also capable of the determination of nitrates in complex matrices such as urban and industrial wastewaters.
Method
The method is based on the absorbance that the nitrate ion in water sample presents in the UV region at 220 nm . Considering that also organic substances absorb in that spectrum region, a reference absorption measurement at 270 nm is required, in order to reduce the organic interference. The compensated absorbance is proportional to the nitrate ions concentration in the sample.
Features
| | |
| --- | --- |
| Wavelength | 220 nm |
| Min. analysis time | 1 minutes |
Technical Specifications
Model
UV
Analysis Mode
Batch, near continuous operation.
Sample
Pressure-free vessel
Temperature: 5 to 50 °C (41 - 122 °F)
Flow Rate: 80 to 500 mL/min
Connection: 6 mm (¼-in.)
Drain
Pressure-free drain
Connection: 12 mm (½-in.)
Streams
1, 2 with integrated switching valve
3, 4 with external sequencer
Frame
Cold-rolled steel painted with epoxy powder
Dimensions (H x W x D)
606 x 380 x 209 mm (23.6 x 14.8 x 8.2 in)
Weight
20 kg (44 lbs)
Power Supply
Input Voltage:100 - 240 VAC 50/60 Hz standard or 24 VDC (option)
Power consumption: max. 80 W
Output signals
2 x 4-20 mA analog outputs
Modbus RTU via RS485
Alarms
4 SPDT programmable voltage-free relays
Digital Input
Remote start / stop
Temperature
5 - 45 °C (41 - 113 °F)
Relative Humidity
10 to 90 % (indoor use, outdoor installation only possible with protective cabinet or shelter not included)
International Protection
IP54
Documentation
Related Accessories