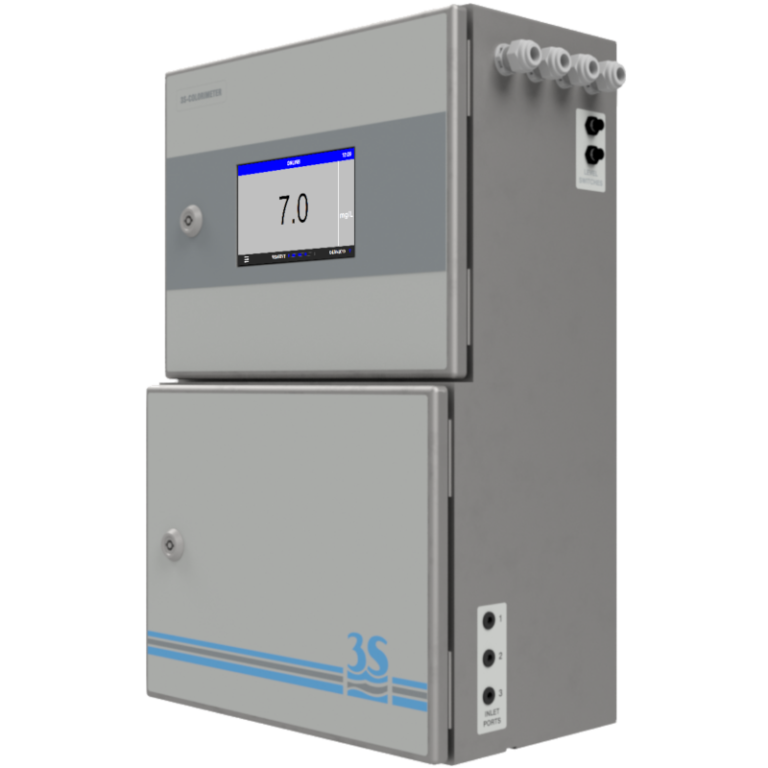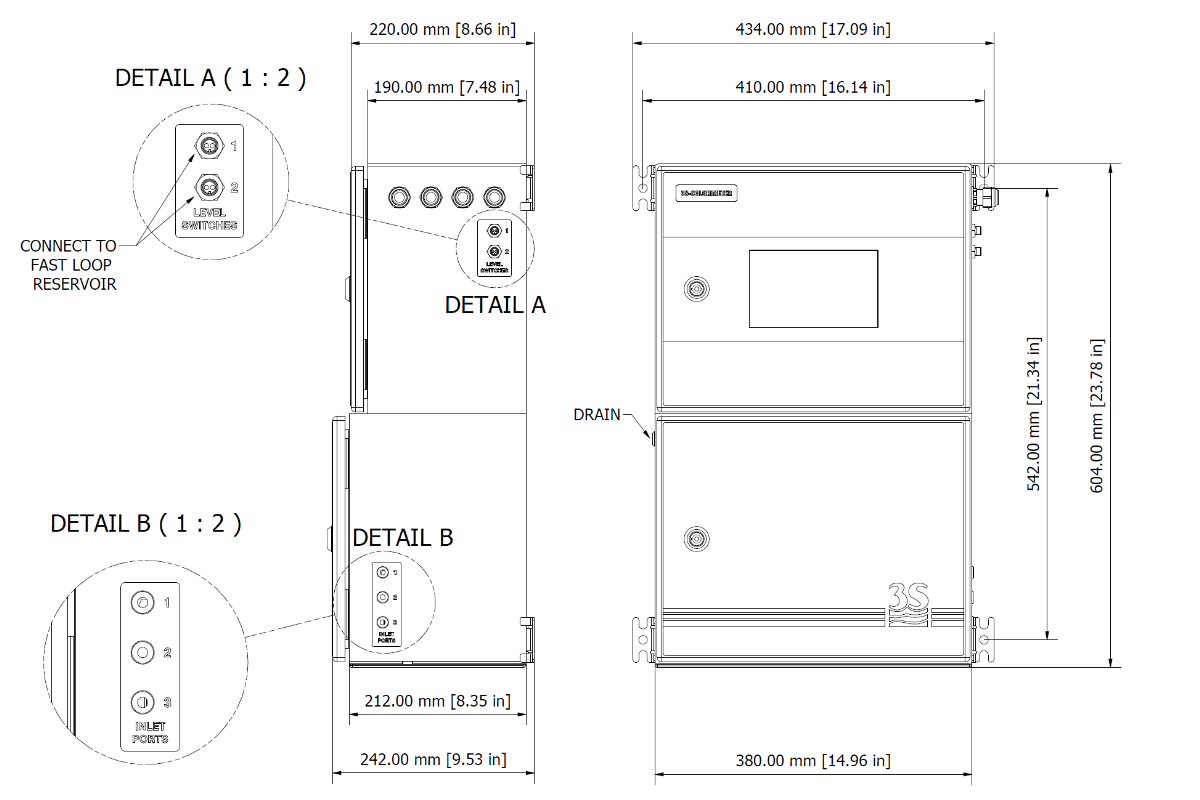 Fe2+/Fe3+
Applications
Drinking water
Iron removal processes and residual coagulant monitoring
Industrial wastewater
Measurement of effluents and wastewaters
Boiler feed water
Corrosion control
Cooling water
Surface water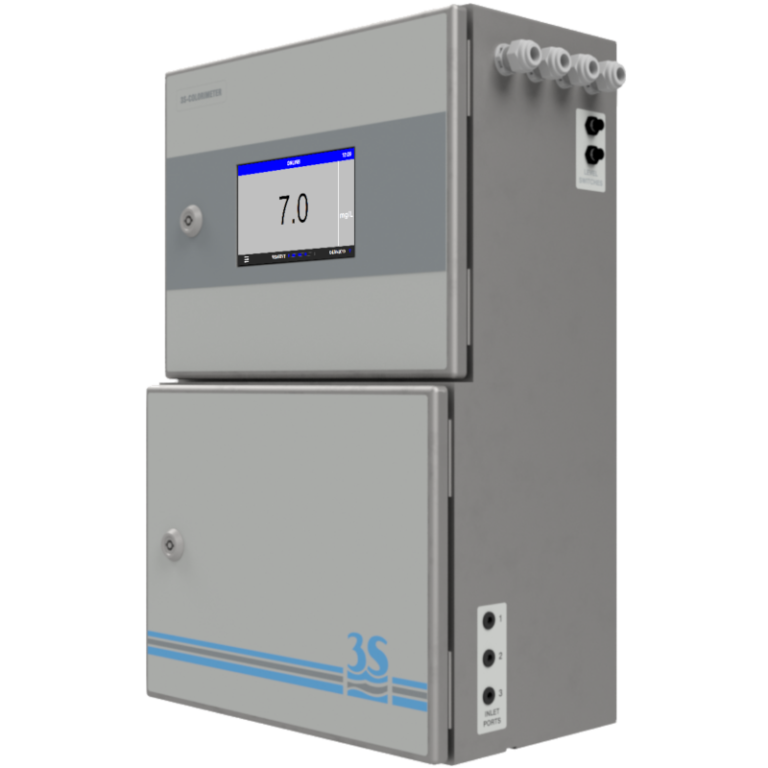 Description
The 3S colorimeter is a compact analytical instrumentation for online analysis and process monitoring. The colorimeter is based on a color-developing chemical reaction carried out inside the analyzer's glass cell. The sample, coming from an external reservoir or process stream is autonomously grabbed by the instrument and mixed with the appropriate reagents to make the reaction happen. The analyzer uses an LED light source and a photodiode to photometrically measure the developed color intensity (absorbance). The absorbance is proportional to the concentration of the target chemical species (analite).


Features:
Low reagents consumption and analytical reliability thanks to our custom designed miniature peristaltic pumps
Dual compartment design to guarantee a complete separation between the electronics and the hydraulic section
Color touchscreen to show the last measured value clearly, and to set all the options and settings via an user friendly interface
Datalogger function with data history in graphical form and USB download
Automatic calibration, validation and cleaning to reduce down time and operator intervention, their frequency can be freely set by the user
Fully integrable in industrial automation via the analog outputs (2 x 4-20 mA channels), digital output (2 relays + ModbusRTU) and digital input (voltage free contact)
Iron is ubiquitous on Earh's crust, it can be found in varying amounts in surface waters. It can can also be found in potable water especially when used as coagulant in water purification processes.
The determination ranges of the iron analyzer vary from trace μg/L to 200 mg/L using the (optional) internal dilution module. Ranges also depend on the chemical method used.
Method
In an acid buffered solution, ferrozine and iron react to form a purple colored complex measured at 572 nm. The absorption intensity is proportional to the iron concentration in the sample.
Features
Measured parameter
Fe2+/Fe3+

Range

| | |
| --- | --- |
| (Ø 26 mm) | 2 - 250 ppb |
| (Ø 16 mm) | 9 - 1000 ppb |
| (with dilution) | 20 ppm |

Reproducibility*

* if two values take whichever is greater.

| | |
| --- | --- |
| (Ø 26 mm) | ± 1 ppb / ± 5% |
| (Ø 16 mm) | ± 5 ppb / ± 5% |

Limit of detection
2 ppb
Wavelength
572 nm
Demineralized water
Not required
Number of reagents
1
Min. analysis time
8 minutes
Default analysis time
15 minutes

Reagent consumption**

** per month, at the default analysis frequency.

| | |
| --- | --- |
| (Ø 26 mm) | 2.5 L |
| (Ø 16 mm) | 1.5 L |
In a slightly acidic buffered solution, 1,10-phenanthroline and ferrous ion react to form an orange color in proportion to the iron concentration. The Fe(II)-phenanthroline complex is quite stable and measured at 430 nm. The absorption intensity is proportional to the iron concentration in the sample. A reduction of Iron(III) to Iron (II) must first be carried out in order to measure both iron species.
Features
Measured parameter
Fe2+/Fe3+

Range

| | |
| --- | --- |
| (Ø 26 mm) | 0.02 - 3 ppm |
| (Ø 16 mm) | 0.05 - 7 ppm |
| (with dilution) | 200 ppm |

Reproducibility*

* if two values take whichever is greater.

| | |
| --- | --- |
| (Ø 26 mm) | ± 0.02 ppm / ± 5% |
| (Ø 16 mm) | ± 0.05 ppm / ± 5% |

Limit of detection
0.02 ppm
Wavelength
430 nm
Demineralized water
Not required
Reference
ISO 6332:2009
Number of reagents
2
Min. analysis time
7 minutes
Default analysis time
20 minutes

Reagent consumption**

** per month, at the default analysis frequency.

| | |
| --- | --- |
| (Ø 26 mm) | 3.5 L |
| (Ø 16 mm) | 2 L |
Technical Specifications
Model
3S-CL
Sampling Mode
Batch, with freely settable frequency.
Sample
Pressure: Atmospheric
Temperature: 5 ‐ 45°C (41 ‐ 113°F)
Flow Rate: 80 to 500 mL/min
Connection: 6 mm (¼-in.)
Drain
Pressure-free drain
Connection: 12 mm (½-in.)
Input Streams
2
Material
Epoxy-coated stainless steel AISI 304
Dimensions (H x W x D)
604 x 380 x 210 mm (23.6 x 14.8 x 8.2 in)
Weight
20 kg (44 lbs)
Power Supply
Input Voltage: 115 VAC,230 VAC
Power consumption: max. 80 W
Output signals
2 x 4-20 mA analog outputs
Modbus via RS485,Ethernet
Alarms
2 SPDT programmable voltage-free relays
Digital Input
None, Online, Start Extra, Skip Idle, Emergency Stop
Ambient Temperature
5 - 45 °C (41 - 113 °F)
Ambient Humidity
10 - 90 % RH (non-condensing)
Protection Grade
IP54 (indoor only, outdoor use possible with external cabinet, not included)