OIW
Applications
Drinking water
Industrial wastewater
Oil-in-water monitoring
BTEX/aromatic hydrocarbons monitoring
Fuel industry
Oil refinement/transportation
Pollution monitorning of surface waters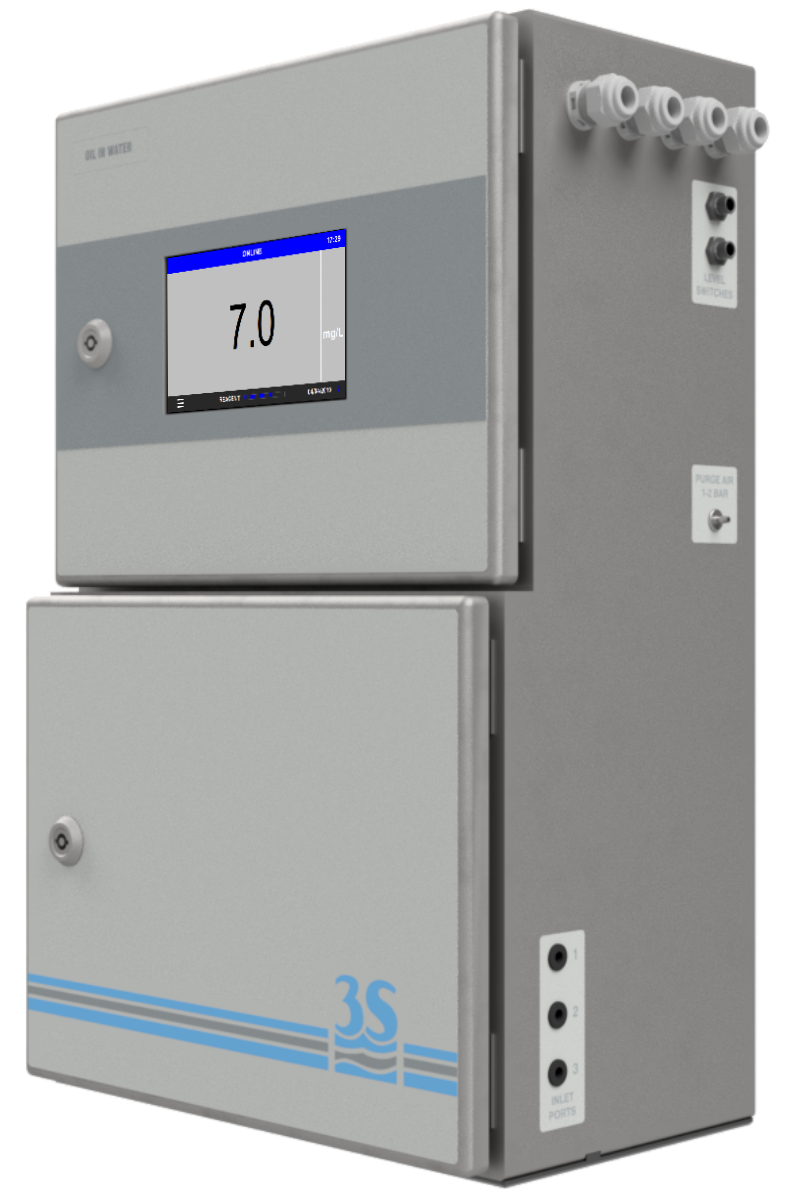 Description
The 3S‐UVFL+ is an online analyzer for continuous determination of fluorescent organic compounds in acqueous samples by means of fluorescence spectroscopy. The analyzer can be used to monitor the concentration of aromatic hydrocarbons, BTEX and polycyclic aromatic hydrocarbons (PAH) in acqueous samples . It finds application in industrial wastewater control, oil industry, hydrocarbons transport and storage and every other application that requires a fast and sensitive determination of fluorescent organic compounds.


Features:
No reagents needed. Optional cleaning reagent is available.
Dual compartment design to guarantee a complete separation between the electronics and the hydraulic section
Color touchscreen to show the last measured value clearly, and to set all the options and settings via an user friendly interface
Datalogger function with data history in graphical form and USB download
Automatic calibration, validation and cleaning to reduce down time and operator intervention, their frequency can be freely set by the user
Fully integrable in industrial automation via the analog outputs (2 x 4-20 mA channels), digital output (2 relays + ModbusRTU) and digital input (voltage free contact)
Method
The analyzer is based on the photometric  determination of fluorescence-active species dissolved or suspended in water.
Reagents
No reagents required.
Technical Specifications
Model
UVFL+
Sampling Mode
Batch, with freely settable frequency.
Sample
Pressure: Atmospheric
Temperature: 5 ‐ 45°C (41 ‐ 113°F)
Flow Rate: 80 to 500 mL/min
Connection: 6 mm (¼-in.)
Drain
Pressure-free drain
Connection: 12 mm (½-in.)
Input Streams
2
Cabinet Material
Epoxy-coated stainless steel AISI 304
Dimensions (H x W x D)
604 x 380 x 242 mm (23.6 x 14.8 x 9.4 in)
Weight
20 kg (44 lbs)
Power Supply
Input Voltage:115 - 240 VAC 50/60 Hz or 24 VDC (optional)
Power consumption: max. 80 W
Output signals
2 x 4-20 mA analog outputs
Modbus RTU via RS485
Alarms
2 SPDT programmable voltage-free relays
Digital Input
Online,Start Extra,Skip Idle,Emergency Stop
Ambient Temperature
5 - 45 °C (41 - 113 °F)
Ambient Humidity
10 to 90 % RH (indoor use only, outdoor installation possible with protective cabinet or shelter not included)
Protection Grade
IP54
Documentation
Related Accessories